Ezyspeak : For Brilliant Speaking skills : HTM Ezyspeak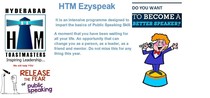 HTM EZYSPEAK
A moment that you have been waiting for all your life. An opportunity that can change you as a person, as a leader, as a friend and mentor. Do not miss this for any thing this year.
This is not a regular meeting, it is a special intensive programme designed to impart the basics of Public Speaking Skill. Each participant would be given an opportunity to Speak and be Mentored. There would be a participation Fee charged to each participant. Enthusiasts grab this Chance.
People wanting to participate, please send your requests to vp.membership@hyderabadtoastmasters.in.